Pembina pipeline stock analysis (PPL) Strong Canadian stock with a monthly dividend
Today I'm going to talk about Pembina Pipeline stock. I will discuss their business, their future plans, and their dividend for 2023. The company's headquarters are located in Calgary, Alberta, and are traded on the Toronto Statistic Exchange for 39.67 cents. With which they pay significant dividends. The company has a yield of 6.42 and the company's market capitalization is approximately 22 billion Canadian dollars. I am not a financial advisor this post is not financial advice for you to buy or sell stocks this is just my personal opinion and you should always do your own research before making any financial decision.
Pembina Pipeline stock
Business Pembina Pipelines is a Canadian energy transportation and media stream service provider with more than 65 years of history. The three main divisions in the business are the pipeline division which is the main business facilities division and a smaller subdivision which they call marketing and new ventures.
They own 18,000 km of pipelines that transport oil and natural gas mainly in western Canada, British Columbia, and Alberta. They also have gas processing facilities and oil and natural gas liquid logistics. Trading in various parts of Alberta British Columbia and even in the north of the United States His new venture business is basically buying and selling products like natural gas propane and crude oil arbitrage.
8 High-Yield Monthly Dividend Stock to Buy Now
The warehousing business is doing as well, with strong commodity prices and strong production volumes. In recent quarters, especially in the crude oil and natural gas sector, it appears that the pumping business has a strong outlook for 2023. Overall Pembina Pipeline is an established company with an excellent track record in running pipelines and expanding its umbrella to other energy generation storage and transportation sectors.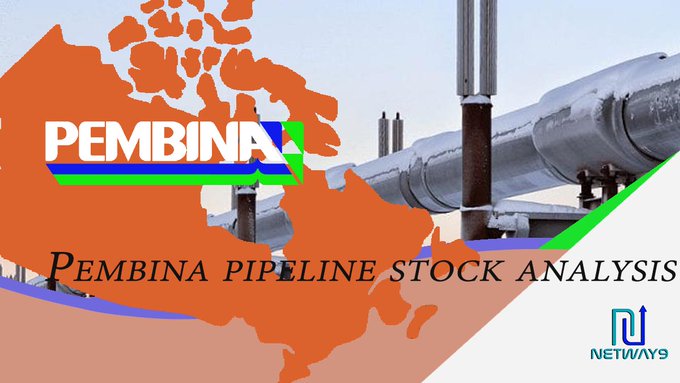 Pembina Pipeline company's growth rate
A good growth rate company for a business has an excellent track record of paying dividends and increasing its dividends year after year. They didn't increase their dividend in 2021, but at least they didn't cut the dividend as some Core Energy ones did, and to be honest, the current yield of around 6.5 percent is still pretty good. They also have added monthly dividends which could be a plus for some investors looking for monthly cash flow without regard to dividend safety.
LTC stock analysis, Dividend investing | high dividend yield stock
Some people say they have a higher payout ratio for that and things like that but for a company like Pambina, you shouldn't be looking at traditional metrics. If you look at it for 2022, you should always look at their dividend payout compared to their cash flow from operating activities. They anticipate paying out less than 70 percent of their operating cash flow, which means 1.5 billion by way of dividends.
Which is pretty safe. They will still have $700 million to grow their business and investment activities, and they also anticipate up to $200 million for share buybacks, which could give Evap an even better return to shareholders than in the previous presentation. Is. Pumping management has noted that they will stick to their financial constraints to avoid any major downside to their business and the decision not to increase the dividend in 2021 is based on their financial flexibility and maintaining long-term contracts with Guard Rate Papaina. and I personally believe the risk is not significant for this business.
PPL stocks dividend growth
The worst case scenario the company can do for the stock is put growth at 12 percent in the short term and then growth will drop to eight percent over the long term. Twelve percent of the growth is coming from growth in business. Dividend growth and dividends also consider the terminal multiple of value to cash flows of seven. For this case that is in line with the historical bearish periods for this stock for the general case. Trade grows by 15 percent in the short run and then it falls to 12 percent in the long run. The fair value of this company is 40.67 correct? So 40.67 is the fair value of this company with these assumptions.
Gladstone Commercial stock (GOOD) Monthly Dividend Stock Review
This means the shares are trading at a two percent discount as compared to the current trading price of around Rs 39.5. If you expect a 10 percent return on your money, the stock is probably going to deliver 10 percent of that. 10 per year over the next 10 years and it is a buy according to the model. The 10 percent return seems in line with the company's projections for three to five percent growth on top of the 6.5 percent dividend yield.
Can't expect this kind of year-to-year returns from Pembina Pipeline stock and I am fine with guaranteed returns of around 10% from this stable company. The analyst price target for this company is currently $44 per share for 2023. At the end of the day with a buy rating if you are looking for a stable predictable and high-yielding company with monthly dividend payouts. So the Pembina Pipeline might be an obvious look. It does not provide high growth. But it provides predictable monthly cash flows with little risk at current valuations. Please leave a comment. Let me know which stock you want to review.